Advantages of the Employee Handbook – keeping it current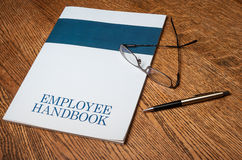 Almost everyone knows that the Employee Handbook is a reference guide for both managers and employees. It contains policies that inform employees of their employer's expectations. In addition, the Employee Handbook can also comprise other information that is useful to the employee, such as the business's history, its goals, and its commitment to customer service. Incorporating all the key elements in the Handbook can make onboarding and orientation training easy to follow and complete.
Keeping the Handbook updated, allows for a regular messaging across the organization. It is important that policies when changed are communicated immediately and consistently. When policies change, often organizations prefer to include an addendum instead of reprinting the handbook. With today's technology, the Employee Handbook can be made available/accessible online allowing employees to check off or acknowledge that they understand, confirm and agree to abide by the rules enclosed. This acknowledgement is also traceable. Employees should also be given the option to speak with their managers if they have questions.
While employers have to be cautious about the contents of their Handbooks, as the policies and procedures outlined confirms their promises or contractual employment relationships, the advantages far outweighs the disadvantages, as long as the Handbooks confirm with the minimum requirements of the Employment Standards Act and is updated on a regular basis, especially when policies and processes change within the businesses.
With recent changes to the Employment Standards Act, it is important that the Employee Handbook is kept updated. It is worthy to remember that the Employee Handbook represents the organization's brands and its image in the community. These policies can attract and retain employees, as well as confirm brand loyalty.
Employers should always ensure that their Handbooks are compiled by Certified HR Professionals and reviewed by their legal counsels.
Visit us at www.forwardthinkinghr.ca. We help organizations with policies and handbooks.
---